Potato soup with spice butter and pretzel croutons. And the cookbook "Your kitchen".
S Just imagine, you'll come home frozen with a light (ache!) mulled wine glow from the Christmas market. You take off your ice-cold Botten and turn the heating a little bit higher. Brrr .... Then you go to the kitchen. You really feel like something warm and hearty! On the stove is a large, steaming pot and when you lift the lid, you are briefly wrapped by a cloud of aroma: potato soup! It smells warm, spicy and hearty. And then there are traces of Advent ... cinnamon ... and something you can not pinpoint. Hach! It smells great!
You fish your favorite bowl off the shelf and start to shake up the silky soup. Next to it, crunchy pretzel pieces are waiting on a plate. You throw in a handful. A little green as a topping and a few drops of the good olive oil ... now a quick spoon. You pull yourself with your loot on the sofa, you stuff yourself the blanket and turn on the next episode of your favorite series. You briefly enjoy the heat of the bowl in your hands and once again inhale the spicy potato soup flavor. Then you start to spoon ... hmmm ... life can be so beautiful.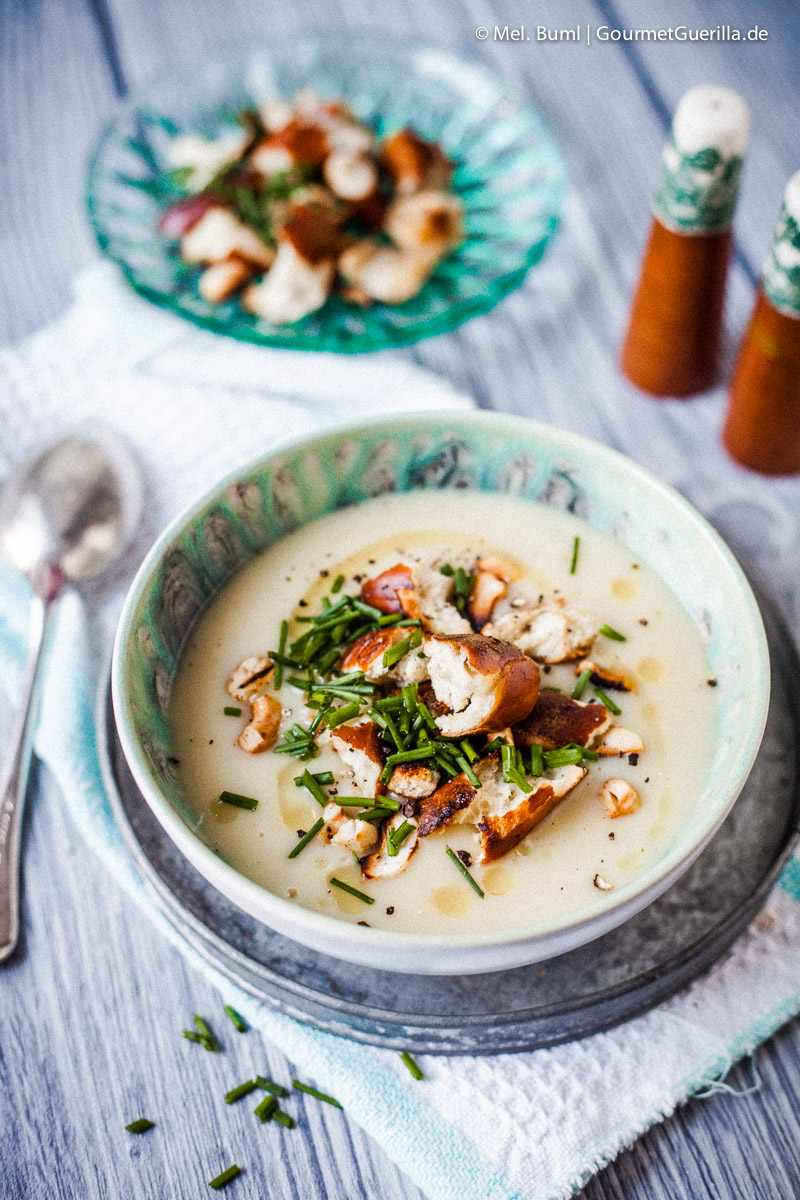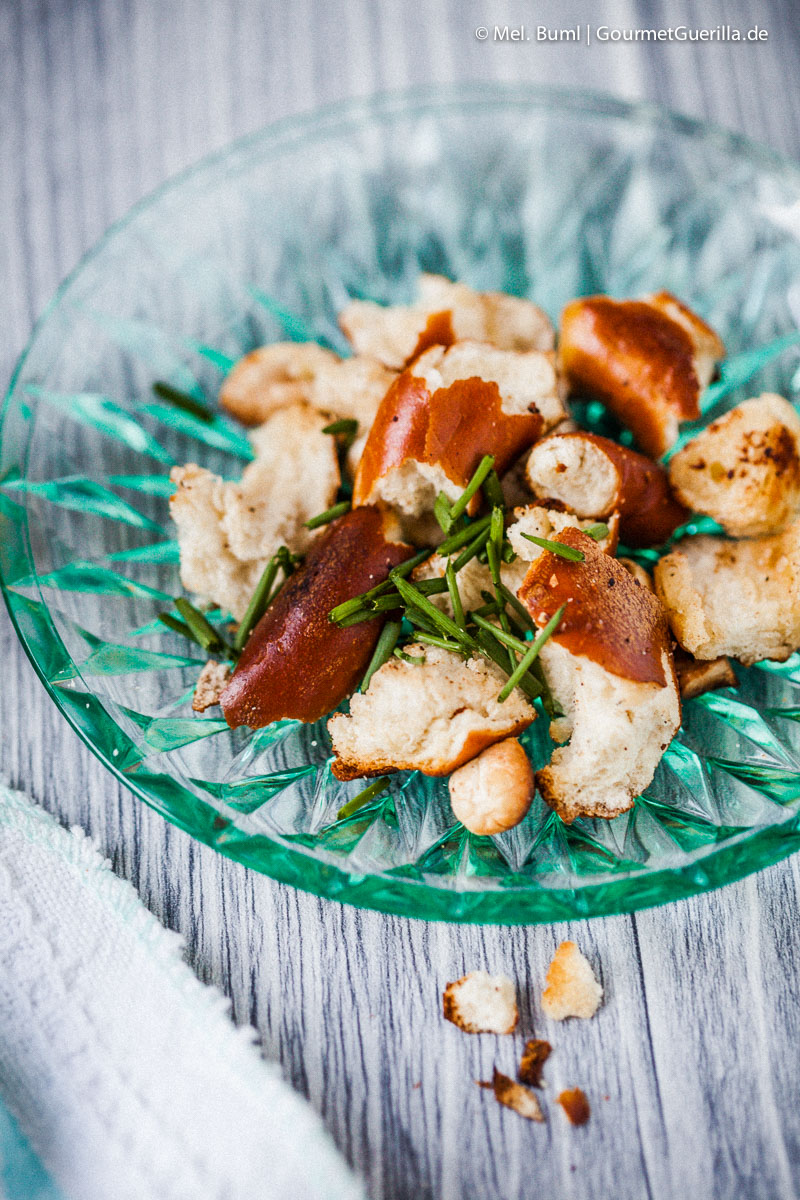 "Your kitchen - a journey through the winter".
Potato soup with pretzel croutons, spicy dumpling slices, pork loin with chocolate, chili and ginger, beetroot risotto with Kale, pear crumble, almond tart with figs ... that's how it goes on and on (I drool again). There are 150 exciting, wintry recipes in the new "Your Kitchen" cookbook.
Divided into three chapters, winter is celebrated extensively and deliciously: "Into the winter" with the right recipes for the first crispy-cold Winter days, "In the middle of winter" with heart-warming and festive ideas and "Get out of winter" with dishes that make you want the first green and spring. Each of the mostly simple recipes comes with a large sized photo and clear step-by-step instructions. There are always plietsche tips on preparation, ingredients or product information.
The whole thing is so well laid out, staged and photographed that you actually want to cook immediately half. At least. Or just sit on the sofa, browse through the delicious pictures and can not decide what to give first. Whether vegetarians, roast lovers or sweet bites - here are guaranteed to find all those who are looking for inspiration in the cold season with seasonal and local ingredients and with that certain something. Predicate: unrestrictedly delicious! And: Good value for money - the book costs an affordable 9.95 euros. (Maybe a good idea as a boot filling or additional Baumunterlegsel?)
Because I think that more people should come through the winter, I'll give away 5 "Your kitchen" cookbooks below. And of course there is also the recipe for the best potato soup of all. At the bottom.
And here are some other delicious soup recipes.
Have it!November available in all REWE stores and the REWE delivery service.
You also want to come through the winter? I'm giving away 5 cookbooks "Your Kitchen" as a Giveaway.
Leave a comment until Thursday, the 01.12.2016. And with a little luck, the pots steam and smell in your home soon. Please note the terms and conditions *.

And here comes the recipe for winter potato soup with spice butter and pretzel croutons
Ingredients for 4 people:
1200 g potatoes, floury-leavening
2 tablespoons butter, 2 tablespoons honey, 2-3 medium-sized onions, peeled and chopped
2 garlic cloves, peeled and chopped
1 cinnamon stick
2 bay leaves
½ teaspoon ground cardamom
2 tablespoons flour
¼ teaspoon nutmeg, preferably freshly grated with salt & black pepper
1200 ml vegetable broth - 200 ml cream - 2 tablespoons vinegar
1 pretzel pretzel
4 tablespoons of cashews, like organic
1 bunch of chives, chopped
1 tbsp of olive oil + garnish
Equipment:
Sharp Knife - Large Pot
Blender
And this is how it works: > strong>
Peel the potatoes and cut into cubes.
In a large pot, melt the butter. Sweat the honey, onions, garlic, cinnamon, bay leaf and cardamom in it for 2 minutes. Then add the potatoes and the flour and fry for another 2 minutes while stirring. Then season with nutmeg, salt and pepper. Pour in the vegetable stock and stir well.
Boil it up and simmer for about 20 minutes over low heat.
In the meantime, pluck the pretzels into pieces that are not too small. Heat the olive oil in a nonstick skillet and sauté the pretzels with the cashews over medium heat for about 4 minutes until the cashews have color and the pretzels are crisp.
Fish the cinnamon stick and bay leaves from the soup , Put the cream in the pot and puree everything. Season with salt, pepper and vinegar.
Peel the soup in bowls and garnish with pretzel croutons, cashweeds and chives. If you like, sprinkle the soup with some olive oil.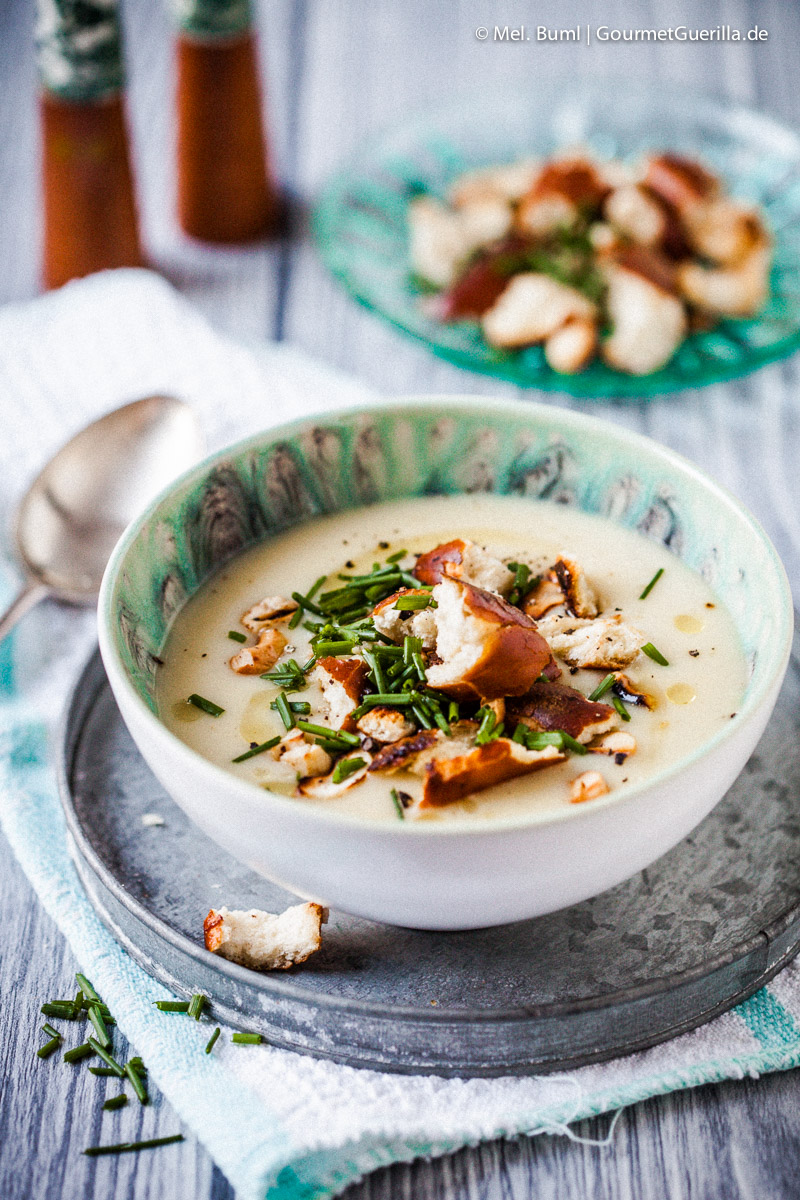 * Terms & Conditions: Participation in the Sweepstakes is made by submitting a comment. Please enter your valid email address for a winning message in the corresponding field of the comment function. The draw of the prizes takes place by random number generator. The winners will be notified by e-mail and then have three days to submit their e-mail address. If there is no feedback, the prize will be raffled again. E-mail addresses are stored only for the purpose of shipping and then deleted. The legal process is excluded. Profits can not be exchanged or paid out in cash.