"Hatari the Corner" brings vegan bowls and opulent stacks in the hill. A restaurant tip in Hamburg.
D he Hamburger Schanze got a delicious new hotspot. Although - quite a bit new, the "Hatari the Corner" is not. Schanzengänger are familiar with the restaurant on the corner of Schanzenstraße/Grüner Jäger as the Hate Harry with red checked tablecloths and burgers and pizza on the menu. Now the operators have made an exciting turnaround: In only eight days closing time, the location has got a new concept with a new name, cleaner look, ambitious chef and an exciting new map. And all of this is absolutely successful.
Modern Brunch All Day Long: Breaky Stacks, Daily Salads and Healthy Bowls
"Brunch" is the new big one Theme of the day ticket. Pleasingly adapted to the out-of-house eating habits of the trendy quarter inhabitants, there are fresh, cold and cold dishes from 10 am to 5 pm, which have nothing to do with the usual sumptuous brunch buffets.
For example, the Healthy Bowls are already the absolute favorite among the guests. The "East Asia Bowl" with red French wild rice, Tahin orange and ginger sauce, wakame cucumber salad, sweet chili smoked tofu, sweet and sour squash, sesame spinach, broccoli, marinated spinach, carrots & zucchini noodles and Cherry Tomatoes are not just a feast for the eyes - the vegan combination also tastes delicious ($ 8.50).
The California Bowl comes with just as many delicious ingredients as well as fried oyster mushrooms, rosemary potato and sesame spinach, goji berries and lettuce (8,50 €). And if you're looking for great heartiness, the "Mexico Bowl" is Bio-Pulled-Pork. Chipotle Salsa, Cheddar, Tortilla Chips Love Tomato Avocado Smach Hot and Hearty (9,00 €).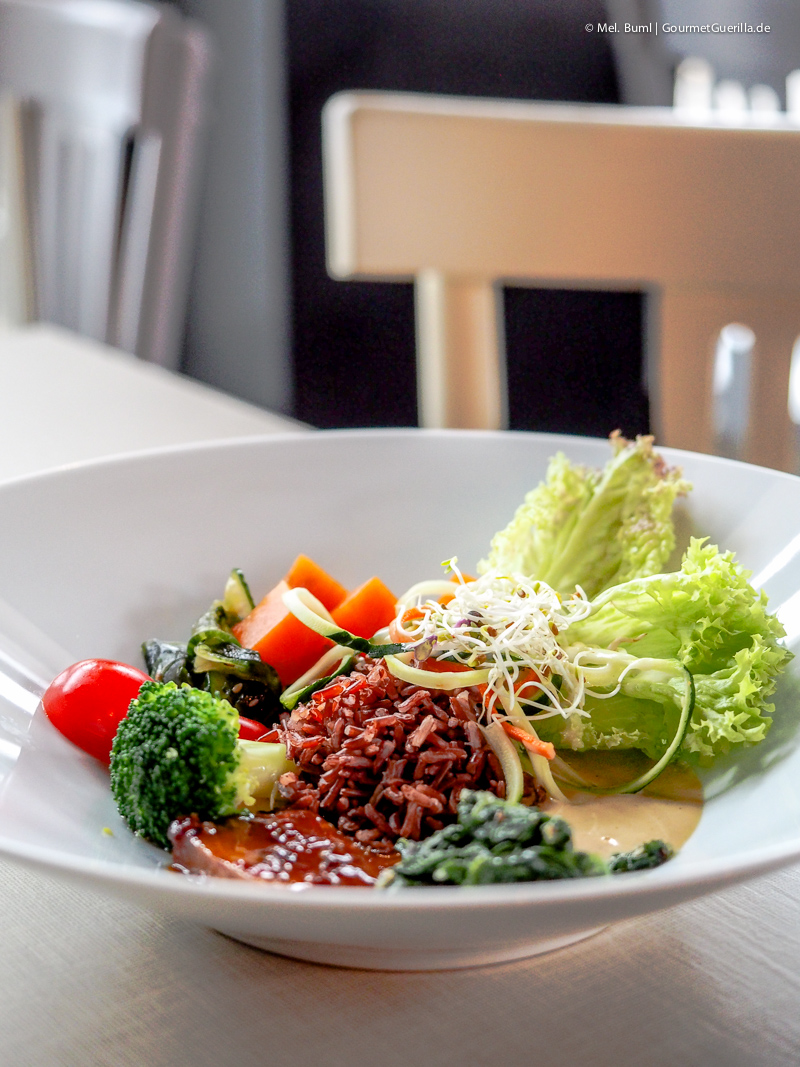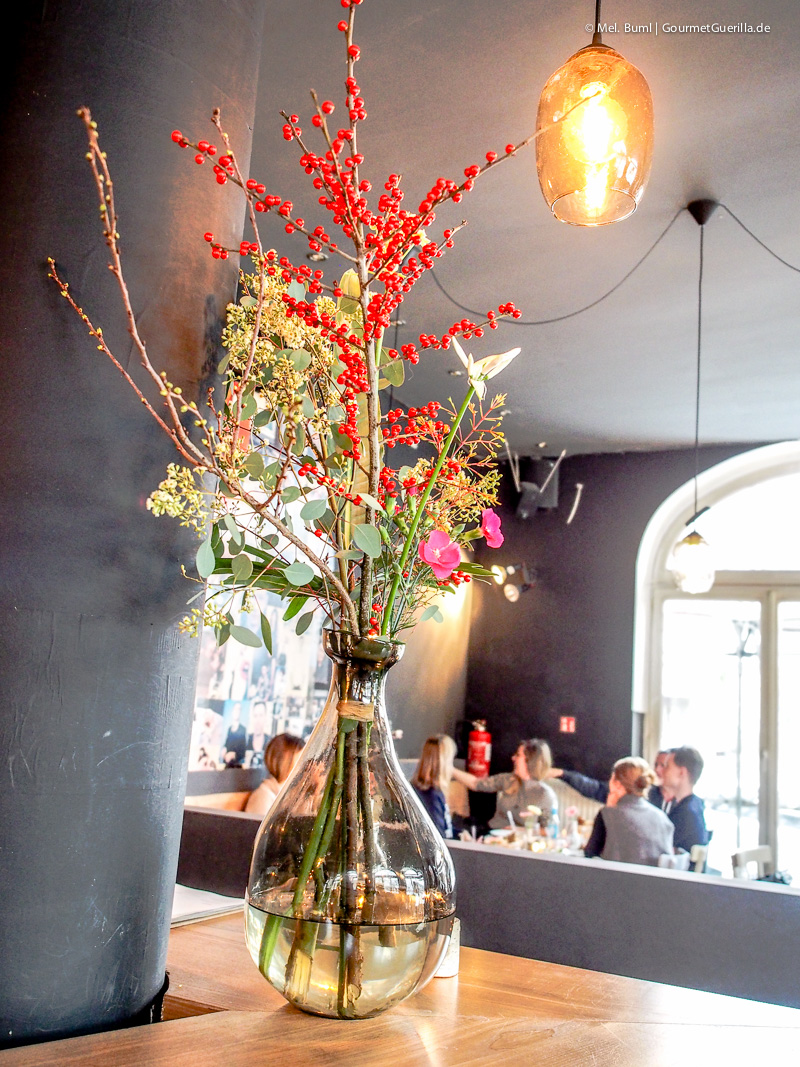 Great stumps on the wooden board with a willing-will factor
No sooner than the Breaky Day Stacks on for the first time If you pass a large wooden board past one, you also want immediately to have such a thing. Stacks are lush, up-grown, grilled farmhouse breads. Superstars, so to speak. And they also come in great combinations with avocado, sweet chili smoked tofu, smoked salmon and pulled pork (6.80 to 9.00 €).
In similar dimensions comes the fantastic Egg Benedict . In the interpretation with 2 poached organic eggs and high-quality ham on farmer's bread and a side salad it has become in short time the Signature Dish of the Hatari the Corner (7.50 €)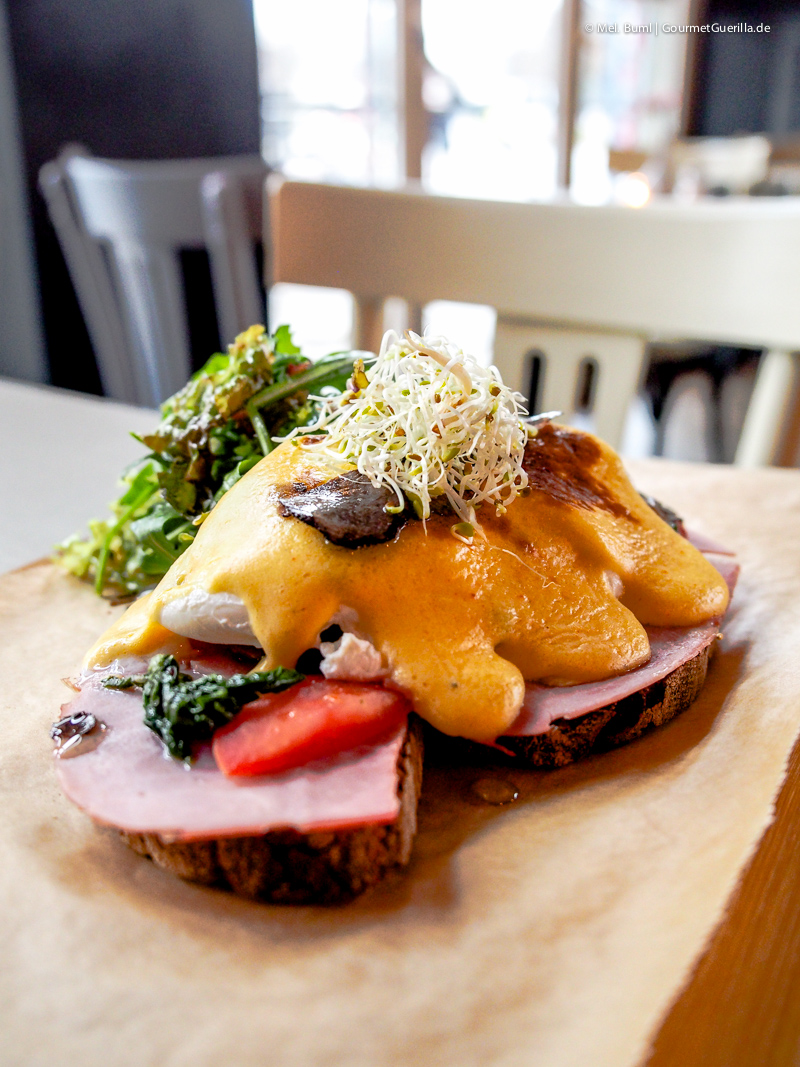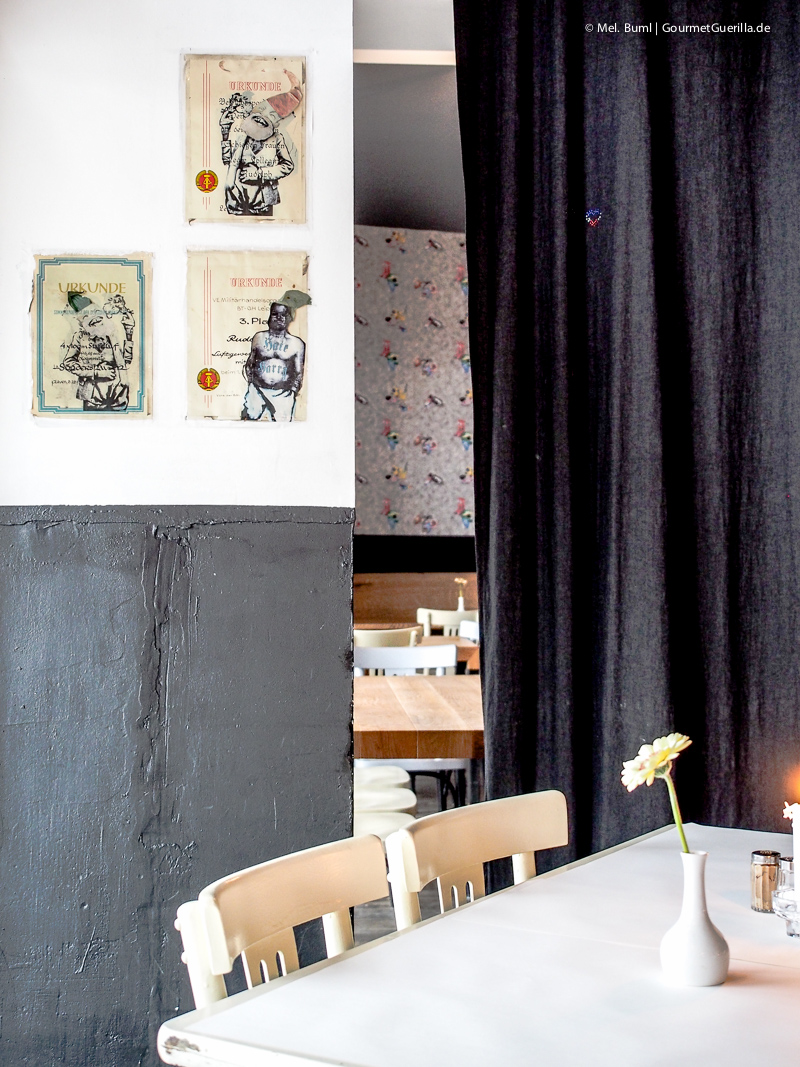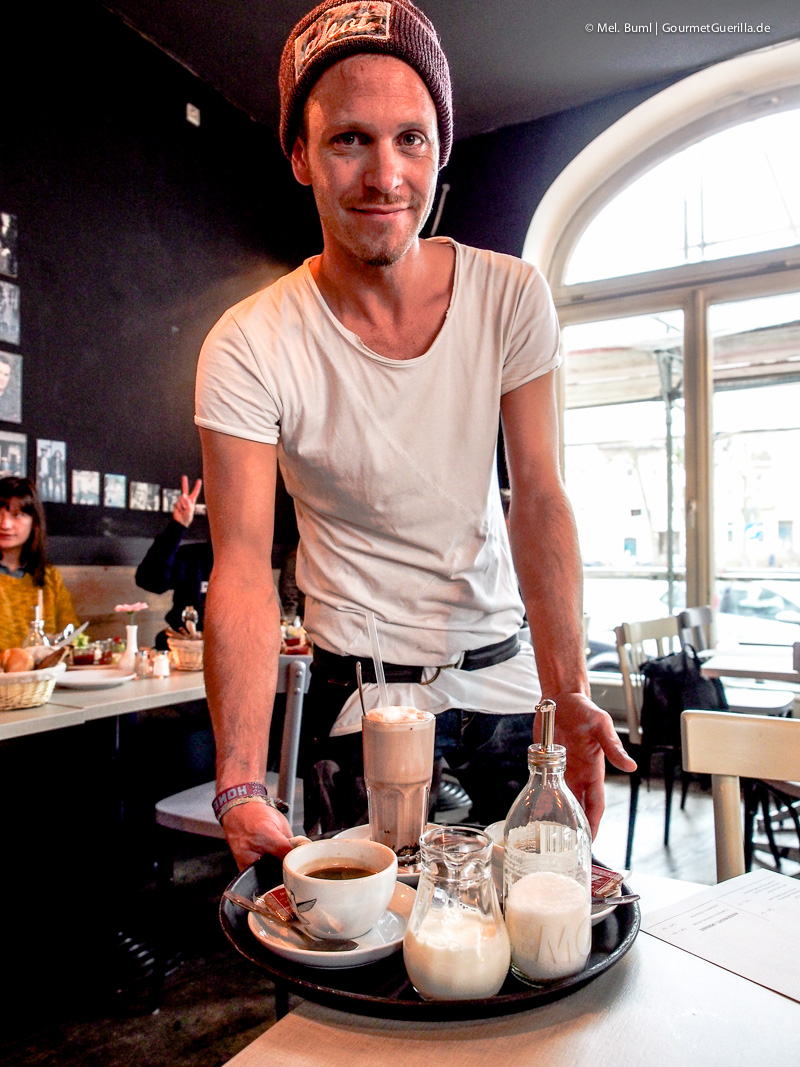 Highly recommended is also the homemade lemonade - served in a 0.4 l beaker for 4, - € and wonderfully fruity , We do not yet agree on whether raspberry lemon mint (the man and the child) or strawberry rhubarb (me) is tastier. I suppose we have to try that out a lot before we come to a conclusion.
Breakfast is also available. Also served on wooden boards and with many exciting components such as rosemary ricotta, homemade marmalade or beetroot-horseradish spread.Maybe it's because the dessert is just amazingly good. Personally, I'm not so sweet, so dessert is usually more picky. But here I could not decide what was the best. I can only advise you: Ask and take dessert, if you can get it!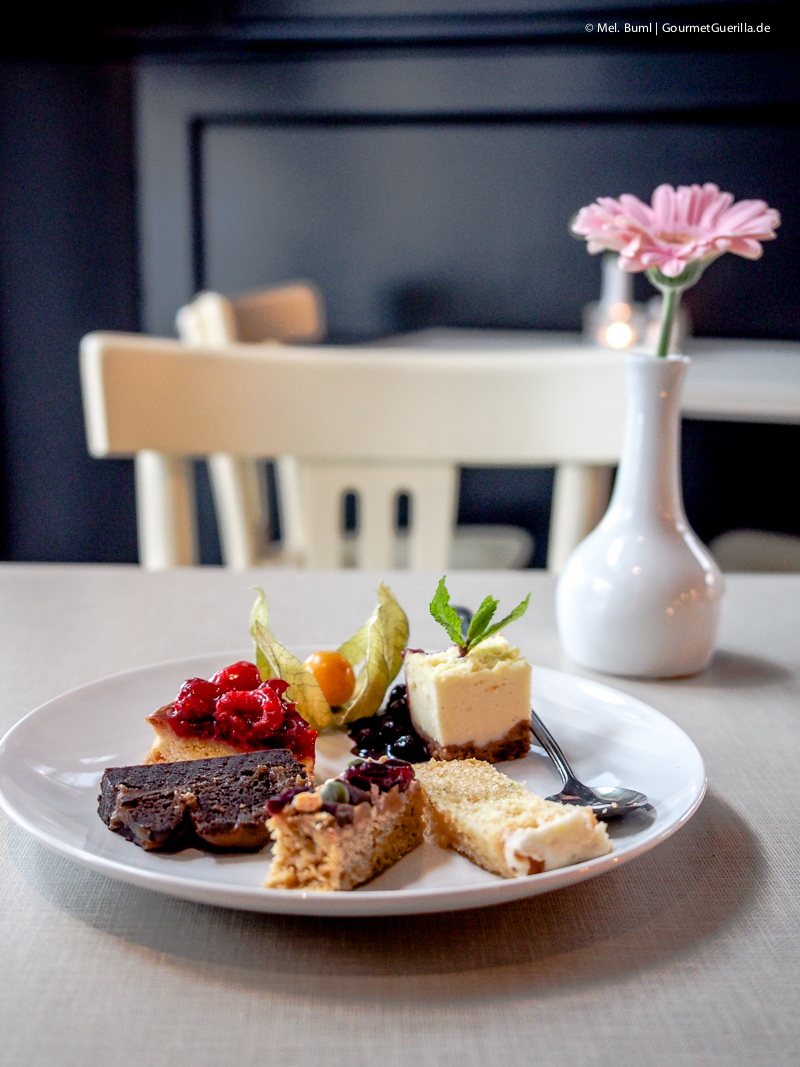 As the concept of all-day brunch is well-received, Hatari the Corner is often well-attended. One to two people usually always find a place somewhere. But if you want to eat with several people, make sure you make a reservation, so you do not have to leave disappointed.
For small celebrations and private events , there's a separate room with a curtain and chandeliers. Maybe an exciting idea for your next birthday?
Oh yes - before I forget it. All the delicacies described above are on the lunch menu from 10 or 12 to 17 o'clock. Then there's the Evening Card on which fans of the old Hate Harry will also find Pizza and Burgers .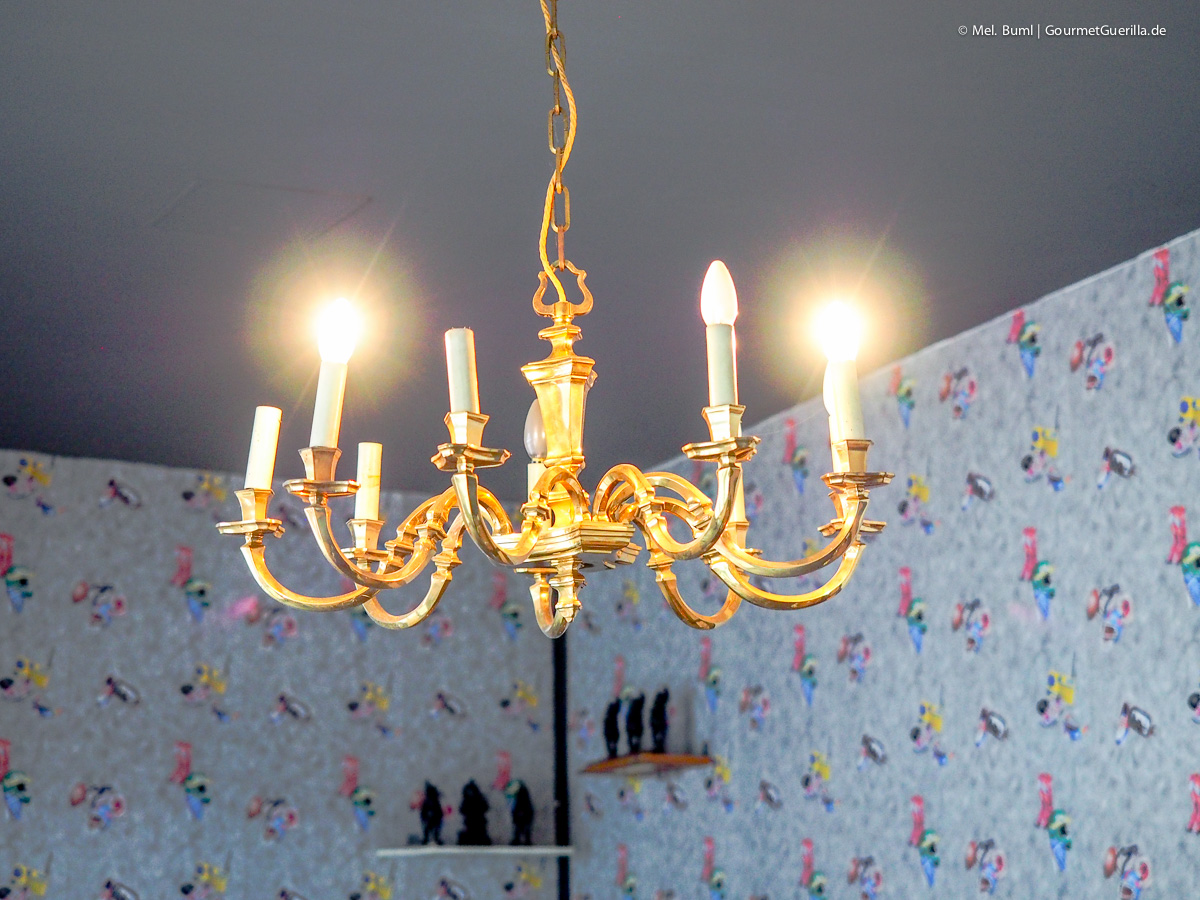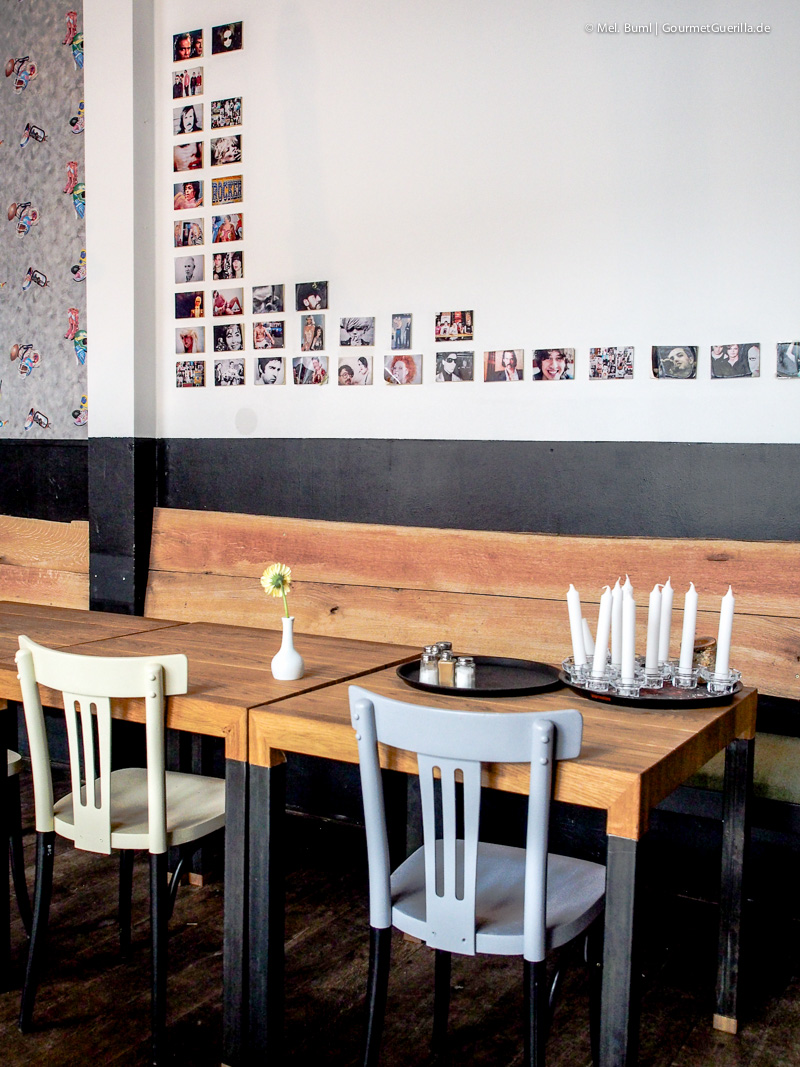 =